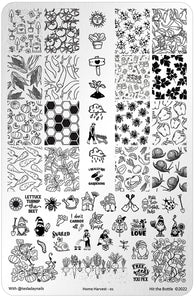 "Home Harvest"
 A collab with Katja from tesladaynails to celebrate her love of gardening. A stamping for those of you that love to garden.
Containing an array of vegetable images of tomatoes, chili peppers, capsicum, carrots, pumpkins and herbs. Some cute bugs and funny sayings and a little team of gnomes to help you in the garden!
Stainless steel with a plastic backing - 9.5 x 14 cm.  Each individual image measures 17.5 x 22.4 mm.

---