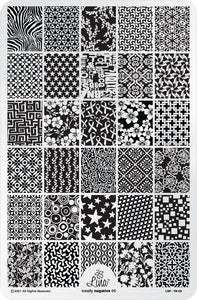 Lina stamping plate - "Totally Negative 05"
Do you want your nails to look absolutely fabulous?
Well, then follow along and let's talk about reverse stamping, and become positively "totally negative" about our nails!!
Yes!! Our Totally Negative series is back, and because there is never a positive without a negative, this plate will have you feeling positively wonderful about how beautiful your nails will look.
These sharp images are some of the most popular around for reverse stamping! We also want to mention these images are the simplest to stamp with, and guaranteed to make your nails look fantastic. As you can do any kind of background, once you place any negative image on top, your design and nails will indeed look positively amazing!!
---