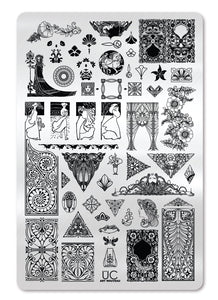 Uber Chic "Art Nouveau"
Art Nouveau

Wondering what happens when you pair the glamour and sleek lines of Art Deco style with sultry, elegant curves? You get Art Nouveau at its finest! We love the soft, romantic-like nature that accompanies this timeless elegance and tried to bring that into our designs on this plate. Get carried away to a different time with our all-new, one-of-a-kind plate!
Technical stuff:
The size of this plate is 9.5 cm by 14.5 cm. Most designs are 17 x 21 mm and are built to cover edge-to-edge on even the largest natural nail size. Small nails left out? Never! Our designs are crafted to not be so overwhelming or large that you can't see what is on your nail - even if it's tiny! 
The designs are engraved on high-quality stainless steel and can be used over and over again - never wearing out.
---