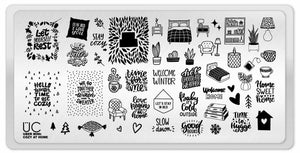 Uber Chic "Cozy at Home" - mini plate
Uber Mini: Cozy At Home
Our new winter mini is all about staying in and getting some serious ME-time. If you like to bond with your PJs when the weather turns chilly or simply like to hang out and Hygge - this plate is sure to inspire some cozy contentment at your fingertips.  

Technical Stuff:
The size of this plate is 6 cm by 12 cm. Some designs are 17 mm x 21 mm and are built to cover edge-to-edge on even the largest natural nail size. Small nails left out? Never! Our designs are crafted to not be so overwhelming or large that you can't see what is on your nail - even if it's tiny! 
The designs are engraved on high-quality stainless steel and can be used over and over again - never wearing out.
---