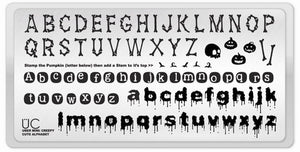 Uber Chic "Creepy Cute Alphabet" - mini plate
Uber Mini: Creepy Cute Alphabet
This is the plate you didn't know you needed until you saw it and now…you NEED it! Equal parts creepy and cute - this little mini will be able to get your point across with just the right words and style. 



Technical Stuff:
The size of this plate is 6 cm by 12 cm. Most designs are 17 mm x 21 mm and are built to cover edge-to-edge on even the largest natural nail size. Small nails left out? Never! Our designs are crafted to not be so overwhelming or large that you can't see what is on your nail - even if it's tiny! 
The designs are engraved on high-quality stainless steel and can be used over and over again - never wearing out.
---