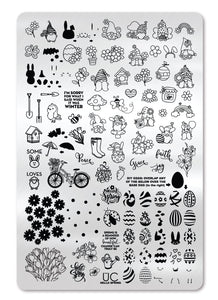 Uber Chic "Hello Spring"
Hello Spring

It's time to get EGG-cited! We have the spring-loving plate you've been waiting for! We packed it full of Gnomes, Bunnies, Ladybugs, Tulips, and the best DIY Easter Egg-making layers yet!  Includes sayings such as "I'm sorry for what I said when it was winter", "Hello Spring", "Spring is a reminder of how beautiful change can truly be" and more! 

Technical stuff:
The size of this plate is 9.5 cm by 14.5 cm. 
The designs are engraved on high-quality stainless steel and can be used over and over again - never wearing out.
---