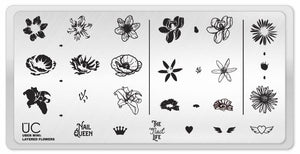 Uber Chic "Layered Flowers" - mini plate
Uber Mini: Layered Flowers
April Showers bring...SPRING NAILS! Get your floral fix with our all-new Layerable plate! These chic buds are bursting with colorful options and are essential to any stamping plate collection. Just follow the arrows and apply each overlapping design to create your next stunning look.

Technical Stuff:
The size of this plate is 6 cm by 12 cm. Most designs are 17 mm x 21 mm and are built to cover edge-to-edge on even the largest natural nail size. Small nails left out? Never! Our designs are crafted to not be so overwhelming or large that you can't see what is on your nail - even if it's tiny! 
The designs are engraved on high-quality stainless steel and can be used over and over again - never wearing out.
---