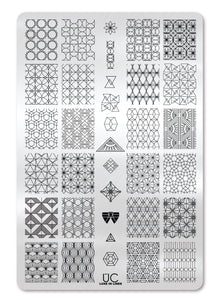 Uber Chic "Luxe in Lines"
Luxe In Lines

Go chic and luxe with our all-new single! What's fancier than a straight line? Straight lines with an Art Deco-like flair! Get refined and classy nail art with our all-new Single plate.
Technical stuff:
The size of this plate is 9.5 cm by 14.5 cm. 
The designs are engraved on high-quality stainless steel and can be used over and over again - never wearing out.
---