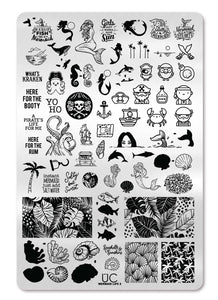 Uber Chic "Mermaid Life 02"
Mermaid Life-02

Get ready for a swashbuckling good time! The sequel to one of our best selling plates is finally here and it's packed with all things salty and sweet - from seashells to mermaids to pirates galore - this plate is just the buried treasure you've been looking for! Including the cutest little Kraken around and sayings like: "Yo ho", "Here for the booty," "What's Kraken?", "A Pirate's Life For Me", pirate maps, buried treasure, tropical leaves, tentacles, pirate ships seashells and sooo much more!

Technical stuff:
The size of this plate is 9.5 cm by 14.5 cm. Small nails left out? Never! Our designs are crafted to not be so overwhelming or large that you can't see what is on your nail - even if it's tiny!

The designs are engraved on high-quality stainless steel and can be used over and over again - never wearing out. 
---