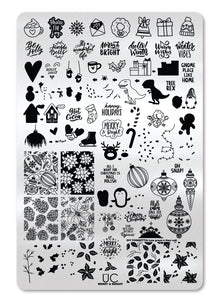 Uber Chic "Merry and Bright"
Merry & Bright

Bring on the holidays with some serious merry style! This year's plate features a "Tree Rex" (he's your new favorite party animal), giant intricate ornaments, perfectly crafted Poinsettias, layers, sayings like "Winter vibes", "It's A Wonderful Life," "Share the Joy", "All I want for Christmas is nail polish," "All is calm, All is Bright", a cheery snowman, pine cones, negative space Christmas bows, lights, gnomes and SO much more!  

Technical stuff:
The size of this plate is 9.5 cm by 14.5 cm and it has coordinating single images.  Small nails left out? Never! Our designs are crafted to not be so overwhelming or large that you can't see what is on your nail - even if it's tiny!
The designs are engraved on high-quality stainless steel and can be used over and over again - never wearing out. 
---