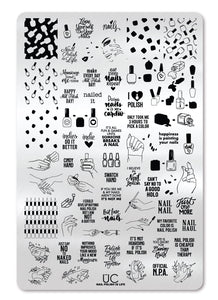 Uber Chic "Nail Polish is Life"
Nail Polish Is Life

Love yourself…do your nails. We believe a new manicure can change your life, and if happiness is painting your nails - then this is the plate for you! Full of sayings like: "Make every day Nail Polish Day," "Doin Nails is my Cardio," "Only Took Me 3 Hours to Pick a Color," "Manicure Time is Me Time," "Can't Say No to a Good Holo," and SO many more! 
Technical stuff:
The size of this plate is 9.5 cm by 14.5 cm. Small nails left out? Never! Our designs are crafted to not be so overwhelming or large that you can't see what is on your nail - even if it's tiny!

The designs are engraved on high-quality stainless steel and can be used over and over again - never wearing out. 
---