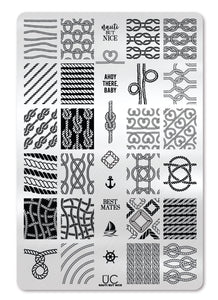 Uber Chic "Nauti but Nice"
NAUTI BUT NICE
Feeling the need for something a little classier? Try out our all new Nauti But Nice plate - it is FULL of ropes, knots and unique designs that will have you saying AHOY! before you know it! We knew a full-on rope plate would need to have some very unique designs to tempt our die-hards so we loaded it up with twisted ropes, braids, heart shaped ropes and even a negative space or two to keep your sea-faring manis on point! 
TECHNICAL STUFF:
The size of this plate is 9.5 cm by 14.5 cm and it has coordinating single images down the center and a few on the sides. Most designs are 17 mm x 21 mm and are built to cover edge-to-edge on even the largest natural nail size. Small nails left out? Never! Our designs are crafted to not be so overwhelming or large that you can't see what is on your nail - even if it's tiny!
---