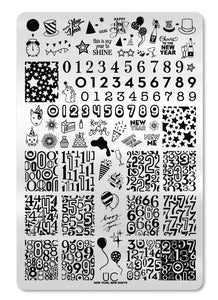 Uber Chic "New Year, New Digits"
New Year New Digits

Start your year (or ANY Celebration) off right! We wanted to take a new spin on the typical New Years' plate by giving you something you can use at the start of any celebration. Whether you're celebrating a birthday or waiting for the ball to drop in Times Square - we've got your number (and then some!) Be sure to check out the party unicorn, dog, and kitty as well as the layerable bubbly Champagne!

Technical stuff:
The size of this plate is 9.5 cm by 14.5 cm and it has coordinating single images.  Small nails left out? Never! Our designs are crafted to not be so overwhelming or large that you can't see what is on your nail - even if it's tiny!
The designs are engraved on high-quality stainless steel and can be used over and over again - never wearing out. 
---