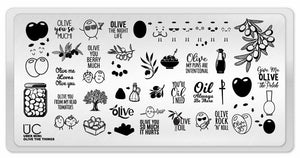 Uber Chic "Olive the Things" - mini plate
Uber Mini: Olive The Things
If you've been around our brand long enough you'll know we love to collaborate on good ideas. So, when @gotnail came to us with an idea from the Facebook Group: Olive Polish we jumped at the chance to make this ridiculously unique Olive-loving mini plate! It's full of sayings such as "Olive You", "Give Me Olive The Polish", "Olive Rock 'N' Roll", "Olive You Berry Much", "Olive the Night Life", Olive me loves Olive you", "Olive My Puns Are Intentional", "Olive You So Much it Hurts", "Oil Always Be There", "You're Oil I Need" and finally; "Olive You From My Head Tomatoes" - plus, we even included layers so you can create the easiest Olive-loving nail art in a snap!

Technical Stuff:
The size of this plate is 6 cm by 12 cm. Some designs are 17 mm x 21 mm and are built to cover edge-to-edge on even the largest natural nail size. Small nails left out? Never! Our designs are crafted to not be so overwhelming or large that you can't see what is on your nail - even if it's tiny! 
The designs are engraved on high-quality stainless steel and can be used over and over again - never wearing out.
---