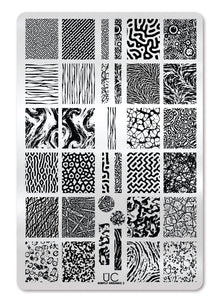 Uber Chic "Simply Organic 03"
Simply Organic-03

You may have thought we couldn't possibly come up with any other extraordinarily unique organic patterns and textures after our first two plates…but we DID! We gathered the most unique and oddly satisfying organic textures and added them all to our third Simply Organic plate. Although we must admit…it's definitely anything but simple! :)
Technical stuff:
The size of this plate is 9.5 cm by 14.5 cm. 
The designs are engraved on high-quality stainless steel and can be used over and over again - never wearing out.
---