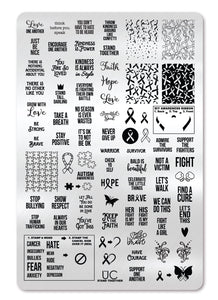 Uber Chic "Stand Together"
Stand Together 
Hey friends! 
Brittany here – owner and designer at UberChic Beauty. I wanted to include a personal introduction of this plate as it is near and dear to my heart. We've had countless requests to make a "ribbon" plate over the last 4 years and I've finally had a chance to get around to it.
When I started the design process I wanted to make sure we covered as many things as we possibly could and include some "rah-rah" enthusiastic, "go get em" statements but the further I went the more I felt the need to also include some elements that spoke to togetherness, fighting alongside one another and also about just stepping back and taking a moment to breathe.
One of the most powerful statements I have on here is "It's ok to not be ok". Sometimes we get caught up in this image of always having to be "ok" – to be, look, act a certain way…when life gets tough it's easy to fall into a trap of not feeling ok and then beating yourself up because of it. I want people to know it's ok to not be ok sometimes too – life is a journey…finding help and those who can wrestle through life with you is what I want this plate to be about. That's also why we decided to name it: Stand Together.
Fighting an illness or other life battle takes guts and most of the time it's not glamorous. I wanted this plate to embody positivity, love and celebrate the absolute gut-wrenching courage so many of us have to dig deep to find.
I hope this plate speaks to you too as it does to me. Here's to Standing Together!
– Brittany
Technical stuff:
The size of this plate is 9.5 cm by 14.5 cm and it has coordinating single images down the center and a few on the sides. Small nails left out? Never! Our designs are crafted to not be so overwhelming or large that you can't see what is on your nail - even if it's tiny!

The designs are engraved on high-quality stainless steel and can be used over and over again - never wearing out. 
---