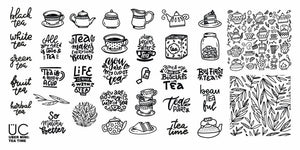 Uber Chic "Tea Time" - mini plate
Uber Mini: Tea Time
Life is so MATCHA better with tea! Introducing: Tea Time! An adorable little mini that is filled to the brim with all things tea! Teapots, teacups, tea bags, tea sayings…what could be more beau-TEA-ful?? Stop and have a sip and enjoy our newest mini alongside your favorite brew of delicious tea.
Technical Stuff:
The size of this plate is 6 cm by 12 cm. Most designs are 17 mm x 21 mm and are built to cover edge-to-edge on even the largest natural nail size. Small nails left out? Never! Our designs are crafted to not be so overwhelming or large that you can't see what is on your nail - even if it's tiny! 
The designs are engraved on high-quality stainless steel and can be used over and over again - never wearing out.
---