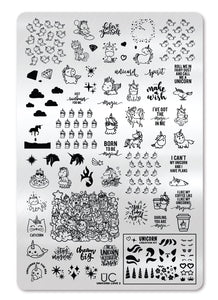 Uber Chic "Unicorn Love 02"
Unicorn Love-02

It's the sequel you've been begging us for! If you want to make your mani magical - this plate is a must. We added loads of cute sayings like: "Roll Me in fairy dust and call me a unicorn", "Make a wish", "I've got the magic in me", "I can't my unicorn and I have plans", "I like my coffee like I like my unicorns: Magical" and so many more! We even included a few atypical unicorns like the adorable narwhal (the unicorns of the sea) and the legendary caticorn! At the bottom right you'll find a DIY Unicorn creation kit to make this plate extra magical.  

Technical stuff:
The size of this plate is 9.5 cm by 14.5 cm. Most designs are 17 x 21 mm and are built to cover edge-to-edge on even the largest natural nail size. Small nails left out? Never! Our designs are crafted to not be so overwhelming or large that you can't see what is on your nail - even if it's tiny! 
---