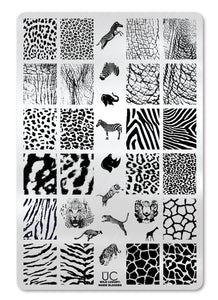 Uber Chic "Wild Luxury - Warm Blooded"
WILD LUXURY: WARM BLOODED
Picture a big Tiger walking along a pool in the heat of the day, it's something that creates wonder and respect. We tried to capture that in our all new Wild Luxury plates. This plate's designs were taken from ACTUAL skins - ok that sounded bad - from hi-res PHOTOS of actual skins - from very alive, very happy animals in the wild. No animals were hurt in the making of this gorgeous plate. Or any of our products for that matter! We made textures from warm blooded animals like Cheetahs, Tigers, Leopards, Elephants, Rhinos, Giraffes, Zebras and even the elusive Jaguar. Say goodbye to the other boring plates that have half done furry patterns that don't even look like actual fur – and hello to our very luxurious and very wild new addition!  
TECHNICAL STUFF:
The size of this plate is 9.5 cm by 14.5 cm and it has coordinating single images down the center and a few on the sides. Most designs are 17 mm x 21 mm and are built to cover edge-to-edge on even the largest natural nail size. Small nails left out? Never! Our designs are crafted to not be so overwhelming or large that you can't see what is on your nail - even if it's tiny!
---